www.TheImmigrants.com
Click here to listen to tracks from the 16-Song CD, Charlestown, released by The Immigrants on Railway House Records in 1994.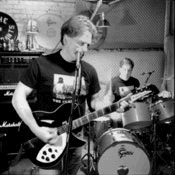 Friday, St. Patrick's Night 1995 — Billy Joel is playing a sold-out show at The Boston Garden. A world away, just across Causeway Street, there is a little rock club above The Penalty Box called The Causeway, The Immigrants take the stage. Outside, on the elevated train tracks, a green line trolley car rumbles by the window of The Causeway as The Immigrants launch into a song called "Subway Station" with the refrain, "Platform pacing on the yellow line, stand clear of the yellow line. I'm just a rat in a habitrail. I'm just a rat, can't you see my tail. Subway Station, Destiny, Destination."
"Lyrics possess a certain weirdness which is not immediately likable, yet is better than the usual pop slop that often ends up here… The Immigrants are young but unusual. Please keep us up to date."
Pit Report, Boston, Massachusetts
"Their melodic instincts are quite keen and the vocalist's phrasing is original and chuck full of irresistible hooks. The next Morphine? Watch this space. Pick hit: "Subway Station."
The Noise, Rock around Boston
Boston, Massachusetts
Special thanks to Martin Doyle club manager of The Causeway from The Immigrants.
---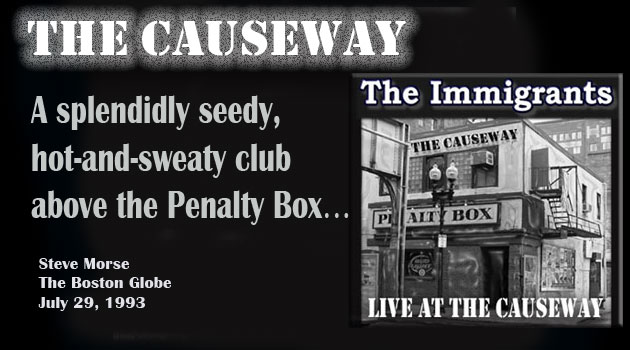 ---
The Causeway — "a splendidly seedy, hot-and-sweaty club above the Penalty Box"
The Boston Globe,
article by Steve Morse
July 29, 1993 (excerpt)
For those who hate slick rock clubs, there's a new room called the Causeway that restores a sense of dirt 'n' grime. Actually, it's an old room given a minor facelift. Once called Chet's Last Call, it's returned as the Causeway -- a splendidly seedy, hot-and-sweaty club above the Penalty Box bar in North Station, kitty corner from the Boston Garden box office.

Walk up the club's ratty, green-walled stairway and you enter another world. It's a world not for everyone, but it's rock at its most basic and it's a badly needed addition to a Boston scene that's become a bit antiseptic in recent years...
---

The Causeway — "New Look for North Station Dive"
The Boston Globe,
article by Steve Morse
Sept 1, 1994 (excerpt)
There's always a place for a good, seedy rock 'n' roll bar -- and the Causeway fits that image in North Station. The Causeway reopened a couple of months ago and has actually received something of a facelift. There's a new rug, newly painted walls and a general touchup that makes the Causeway a more presentable club than the pitted-out disaster it once was…
Club manager Martin Doyle has become a mover and shaker around town. He used to book bands into the Middle East in Cambridge -- another hipster hangout. "We're looking to make this more of a New York style/European-type rock 'n' roll club -- a kind of upper-class dive," says Doyle.
"Mainly, we're a rock 'n' roll club -- and you don't have to be an indie rock band to play here, either," says Causeway staffer Eric Doberman, who is also in a band, Phonebook, that plays the room.
Both Doyle and Doberman are club lifers who grew up in this area and know the club scene inside and out. "We both grew up with fake IDs and went to clubs like Jumpin' Jack Flash and Storyville," Doberman says, referring to two long-gone venues...
Gonna Leave You in the Morning — LIVE
---

The Causeway — "Bedrock club, no bells or whistles"
The Boston Globe,
article by Steve Morse
August 17, 1995 (excerpt)
"We're doing very well. We're very underground and very word of mouth," said Martin Doyle, the booking agent and occasional bartender of the Causeway, the small but hard-rocking club a couple of blocks from Boston Garden and the North Station T stop.
The 120-capacity Causeway (across from the Garden box office on Causeway Street) is the kind of grass-roots club essential to the development of a city's rock scene. Bands tend to play the Causeway before they play anywhere else. It's a touchstone for bigger and better things. No matter that the club's decor is minimalist with a capital M. It's a dark, cavernous space with a ratty stairway leading up to it, coated with posters and fliers of bands that have played there…
Doyle deals with the bands themselves, rather than with booking agents. We take $120 off the door, and the rest goes to the band. "We don't deal with any booking agents. We treat them fairly, which is something they're not always used to. Also, a band can get a Thursday, Friday or Saturday night here, but at other clubs, they might only get a Monday, Tuesday or Wednesday night -- and those are not great club nights. So the bands appreciate that we're here."
Given the Causeway's relatively low economics, Doyle said that he and his staff can sometimes book bands simply because they like them, not because they draw. That would be unthinkable for many larger rooms.
Ulysses — LIVE
---

---
The Immigrants Live at The Causeway - 1996


1. Jackie Boy
2. Subway Station
3. Gonna Leave You in the Morning
4. Ulysses