www.TheImmigrants.com
Click here to listen to tracks from the 16-Song CD, Charlestown, released by The Immigrants on Railway House Records in 1994.

Music Press Reviews

---
Pit Report
~ Boston, Massachusetts ~
Sept. 1993
The Immigrants
Fourtunes ~ 4-song cassette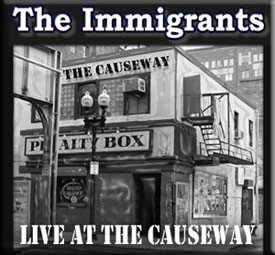 The Immigrants check in with "four tunes" (clever title) that recall the early workings of The Smiths and The Cure, yet have a gritty element straight out of the early Volcano Suns (The Bright Orange Years and All Night Lotus especially).
Lyrics possess a certain weirdness which is not immediately likable, yet is better than the usual pop slop that often ends up here. "Murray & Sadie" is a tale of travel companions ("We're here.").
"Enterprise Ride" and "Subway Station" add depth and dimension due to their dissimilarity.
"Long Gone" is last, both in order of quality and sequence. This is an aspect of their songwriting style I feel they should avoid in the future.
The Immigrants are young but unusual. Please keep us up to date.
Pit Report
Boston, Massachusetts
---
Jackie Boy gets 10,161 Views on YouTube!!
Jackie Boy takes me back to Alternative Rock Anthems like
The Pixies' "Here Comes Your Man" and Weezer's "Buddy Holly"
by Ama Cruz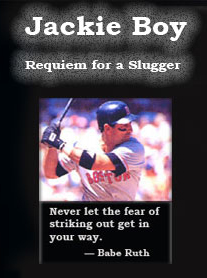 Boston, MA - July 1, 2020 — I'd just like to begin by expressing how much I love the name of this band, The Immigrants, as well as the name of this song, Jackie Boy - Requiem for a Slugger.
The Immigrants blend a cool melodic, surf-rock guitar, a superb vocal performance, reminiscent of Black Francis of The Pixies, or Thurston Moore of Sonic Youth, with the sound of a baseball game and a cheering crowd, rooting for our underdog, Jackie Boy. This is classic alternative rock at its best!
The instrumental performances of the drums and guitar takes me back to beloved 90s grunge alternative rock anthems like The Pixies' "Here Comes Your Man" and Weezer's "Buddy Holly" with the melodic guitars, and roughness, yet a song that makes you want to dance -- like Jackie Boy. This is a polished single!
Jackie Boy will be deeply appreciated by audiences who love alt. rock, grunge, shoegazing, and noise pop. For audiences who love live performances, or anyone seeking REAL and raw music these days, given the pop, synth and auto-tune world we are living in, be sure to check out The Immigrants. - Ama Cruz

About The Reviewer: Ama Cruz is an instrumentalist, writer, and has over a decade of professional experience in arts management, including her time working for Sony's Latin/Jazz PR division. She has contributed as a music journalist and editor for other publications.
Music Press 1 | Music Press 2 | Music Press 3 | Music Press 4