www.TheImmigrants.com
Click here to listen to tracks from the 16-Song CD, Charlestown, released by The Immigrants on Railway House Records in 1994.

Contact Information
---
Bill Sheridan band-leader of The Immigrants Dies at 53
Radio Station offers a Special Dedication to Bill Sheridan
The Hawkrocks.com 104.9 FM plays a Double-Shot Tribute!
Boston, MA - Feb 3rd, 2021 — Bill Sheridan, the guitarist and singer/songwriter in the rock duo, The Immigrants, passed away peacefully at his home after a tough battle with cancer on Monday, January 4, 2021.
A loving father, and devoted husband, Bill was surrounded by the love and warmth of his caring wife, Caroline, and his three children, Jack, Grace, and Daniel, in addition to their two faithful dogs Coco and Duke.
Bill was born in New York City on February 2nd, 1967. He grew up in Yonkers, New York (the same home-town as Steven Tyler of Aerosmith) and graduated from Iona Preparatory School in 1985, the same school Don McLean attended, who would go on to write American Pie.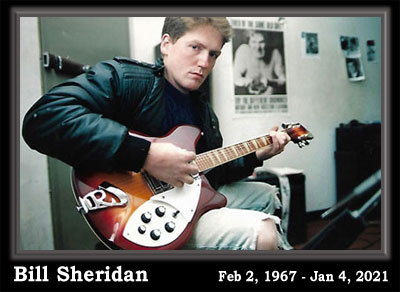 In 1986, Bill moved to Boston and attended the Berklee College of Music where he studied songwriting and guitar.
As a singer/songwriter in his band, The Immigrants, Bill composed many songs with his brother Dan which were released on a 16-song CD entitled Charlestown on Railway House Records in 1994 to favorable reviews in the music press.
Bill's band, The Immigrants, performed at many venues in the Boston area including The Rat, The Bog, The Middle East, Club 3, T.T. the Bears, and last but not least, The Causeway. His songs were often played on college radio, most recently by The Hawk, 104.9 FM in the Lakes Region.
Brian Bernard, the DJ at The Hawkrocks.com 104.9 FM recently offered a double-shot tribute to Bill on his show, Backstage, by playing two songs by The Immigrants on the Radio.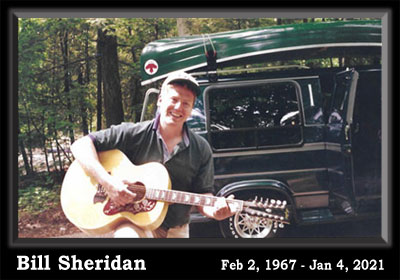 "At the top of the show, we will play two tracks from The Immigrants, who very recently lost member Bill Sheridan. Bill and his brother Dan are longtime members and big supporters of our local music scene and Bill will be greatly missed," commented Brian Bernard, on his show Backstage.
The two songs, Long Gone and Jackie Boy by The Immigrants, were played on the Radio, with a special dedication to Bill Sheridan in between. [Click here to listen to both songs on YouTube.]
In addition to being a gifted musician, Bill loved photography and the outdoors. He enjoyed camping, skiing, and off-roading in his Jeep.
His death was announced by his brother, Dan Sheridan, the drummer in The Immigrants.
---